We Are IT | Meet Mark Myers
---
We Are IT | Meet Mark Myers
Monday 10/02/2023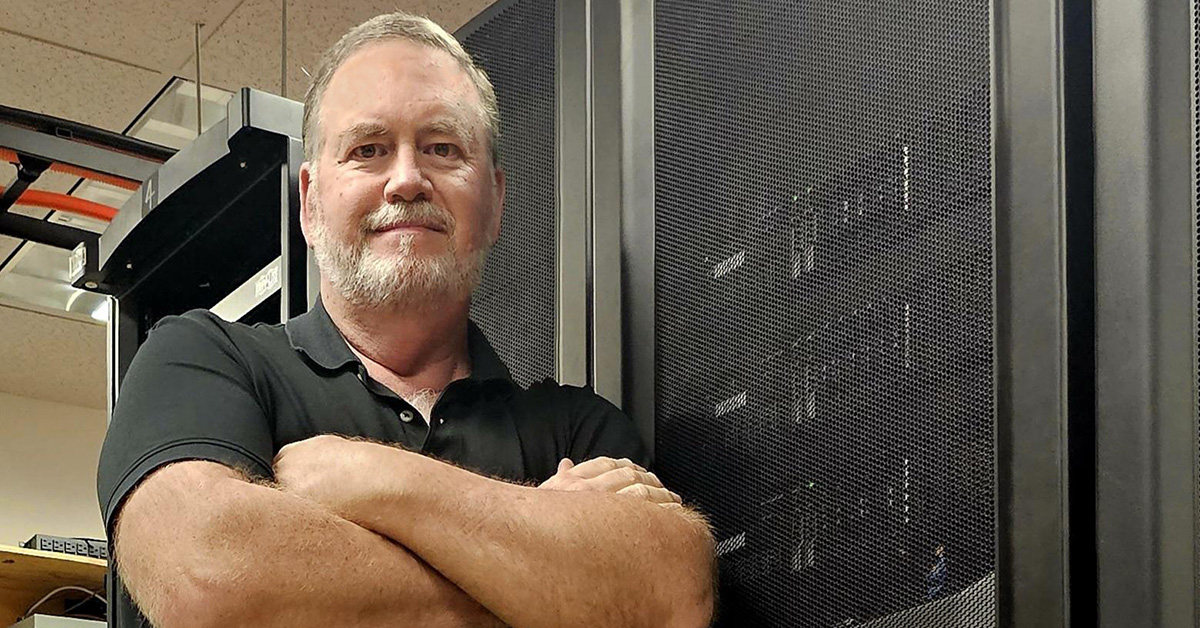 Mark Myers built his first computer network as a high school student in 1981. Fast forward 40 years, and the self-taught computer programmer now works as the manager of information technology at FSU Panama City, where he and his team support all the technology needs of the Panama City campus. Over the years, he has enjoyed seeing his team learn and grow. Outside of work, you will find him in his woodshop building custom Christmas presents for his seven grandkids and other family members.
Where are you from?
I was born in Geneva, Alabama and grew up in Perry, Florida. I've lived in Panama City now for 26 years.
Where did you attend school?
I graduated from Taylor County High school in Perry.
I attended some classes at Gulf Coast State College, and I am working on my masters in the "College of Life."
Why did you choose to work in technology?
I built my first computer network in high school in 1981. We had four computers in the school library, and I linked all of them together with thick coax cable. That is when I first got into networking and computers.
The following year, they began a new class called computer science—it was a brand-new thing. Me and two of my nerdy friends were the first three students in this class. We started doing some programing and working on computers and stuff, and I was hooked.
Fast forward to the mid-90s when I was working at my wife's office supply store. I found some computer equipment and software called LANtastic, and I was intrigued. I figured out how to hook it up and connect two computers (word processors) together. I could type a command on one computer and make it pop up on the other computer in the other room. That was my eureka moment. To be able to do something like that was pretty cool.
I was captivated with this new-to-me technology and began to gather up any equipment I could find and put it together to try and make something happen.
Actually, I still have the loan application for my first real computer system. On the bottom of the paperwork, I had to list the intended purpose of the loan, so I put "Dream Machine."
How long have you been at FSU?
Next March will be nine years.
What is your role at FSU?
My team and I do a lot of everything. On any given day, we could be setting up a new workstation, then replacing security cameras, and later that afternoon we are in the ceiling pulling network cables. There's not a whole lot that we don't do here on the campus. We take care of the physical, boots-on-the-ground activities, and we troubleshoot with anyone who needs it on campus. Our campus is a member of ITAPP, and we work closely with other ITAPP partners to solve issues and brainstorm ideas. We also do a lot of proactive work maintaining the computers and keeping everything up to date and up to speed.
I also go for walkabouts and pop my head into offices and classrooms to introduce myself and make sure everything is going alright. I like to go put a face with the IT department.
What do you enjoy most about your job?
Going home. (Kidding.)
I like to see my team learning and growing. There are several younger folks on my team, and I enjoy mentoring them. I enjoy teaching people what I know and what I've learned over the years.
I also enjoy problem solving. That is high on the list. I'm all in when we have a situation and need to figure out a solution. I really enjoy solving problems for end users.
What is the most rewarding project you have worked on at FSU?
One of the coolest things in technology I have ever done was back in 2020 when we went remote during COVID. I worked with STEM faculty on campus to figure out a way to have students at home virtually attend STEM camp on campus using a combination of Bomgar, virtual network computing and myFSUVLab. We set up courtesy appointments for all STEM campers and tied their accounts to laptops on campus that were connected to microscopes in the classroom. Students could run experiments remotely through myFSUVLab during the COVID lockdown. That was pretty cool. That was fun.
What is your favorite app?
Solitaire.
This was the one game I could play after Hurricane Michael when we had no power, no cell service and no Internet. We drove to Panama City Beach where they had cell service, and I downloaded the app because I could play it offline.
I've played 10,431 games over the course of the last five years.
If you were to invent one piece of technology, what would it be?
A single-use, round-trip-tickets-included time machine so I could go back and tell my younger self to save for retirement and invest in Microsoft and Google.
What is a fun fact about you?
I'm an "in-house handyman," and I do all my own electrical, plumbing and carpentry work. Many people are surprised when I tell them I'm an IT manager and say, "Yes, I also work on computers and networks."
Talk a little bit about your family.
I've been married 36 years, and I love my wife dearly. She is my sweetheart and my best friend. We have four kids—three sons and one daughter. I have seven grandkids from my two youngest sons, and my daughter is (finally) getting married November 18, 2023.
What do you do in your free time?
After Hurricane Michael, I looked at all the debris piles, and there were huge cedar trees—beautiful red cedar. I didn't know what I was going to do with all those logs, but I thought, "There is no sense in those going to the burn pile." My sons and I began digging logs out of piles and dragging them down the road to my house. After several days, I had a large pile of aromatic cedar, but I had no ideas for the next step. I began working and built Christmas presents for the family: small cedar building blocks and hammers for the grandkids and keepsake boxes for the ladies in our family.
Then I discovered the world of hardwoods like oak, maple, cherry, walnut and hickory.
After that, I began collecting tools and buying stuff here and there. Now I have a much larger workshop and it is where I spend much of my free time.
Right now, I'm building new kitchen cabinets and countertops for my wife. I also enjoy building the ubiquitous cutting boards. I don't build anything to sell though; I just build for fun.
In my spare time, I'm usually out in my workshop doing something, whether learning new woodworking techniques, playing with the grandkids or just tinkering. (Tinkering: The act of doing dozens of little chores that no one knows need to be done, that no one wants to do and no one notices have been done.)