1. Click the
AirPort
icon in the upper-right corner of your screen.

2. Select Open Network Preferences inside the Network Preferences dialog box.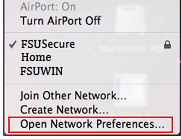 3. Under the Network Preference, click the button Advanced.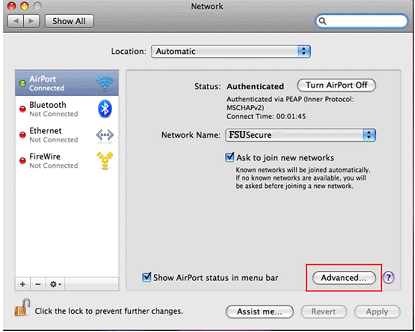 4. In the list of preferred networks, double-click FSUSecure.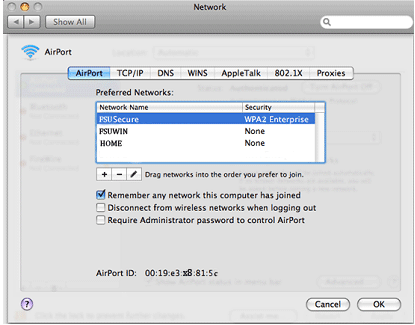 Note: If FSUSecure does not display under your list of preferred networks, proceed to the next step. If FSUSecure is displayed, proceed to step 8.
5. Click the (+) button.
In the Network Name field, type FSUSecure.
In the Security field select in the dropdown list WPA2 Enterprise..
In the User Name field -if you're a student- enter your official FSU Email address (FSUID@my.fsu.edu) or as a member of the Faculty/Staff, enter your FSUID. Next insert your password and Password fields.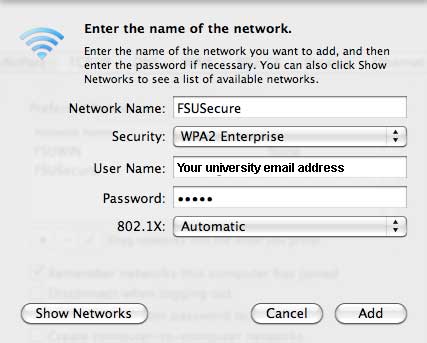 6. Click Add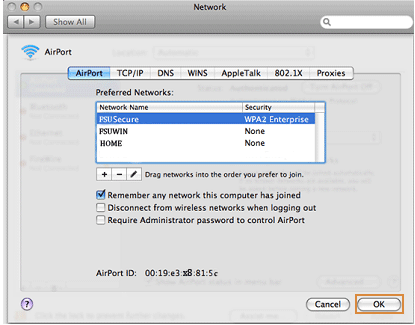 7. Click OK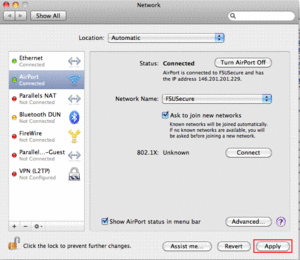 8. Click Apply and then close the Network Preferences dialog box
You may see this dialog box, Verify Certificate, continue to the following steps:


Click Show Certificate.
Look to verify that the name of the certificate is fsu-wireless-auth-ecc.its.fsu.edu
If both of these conditions are met, click the Always trust "fsu-wireless-auth-ecc.its.fsu.edu", then click the button Continue.
Upon completion, you maybe prompted for your User Name and password each time you connect to FSUSecure Network. If you're not prompted to connect check the following:
Verify your AirPort is turned on by looking at the AirPort Status Icon in your menu bar
If your AirPort card is turned off, Click on the icon and select Turn AirPort On
Go back to the AirPort icon and select FSUSecure
You setup is now complete.