We Are IT | Student Application Services (SAS)
---
We Are IT | Student Application Services (SAS)
Monday 09/20/2021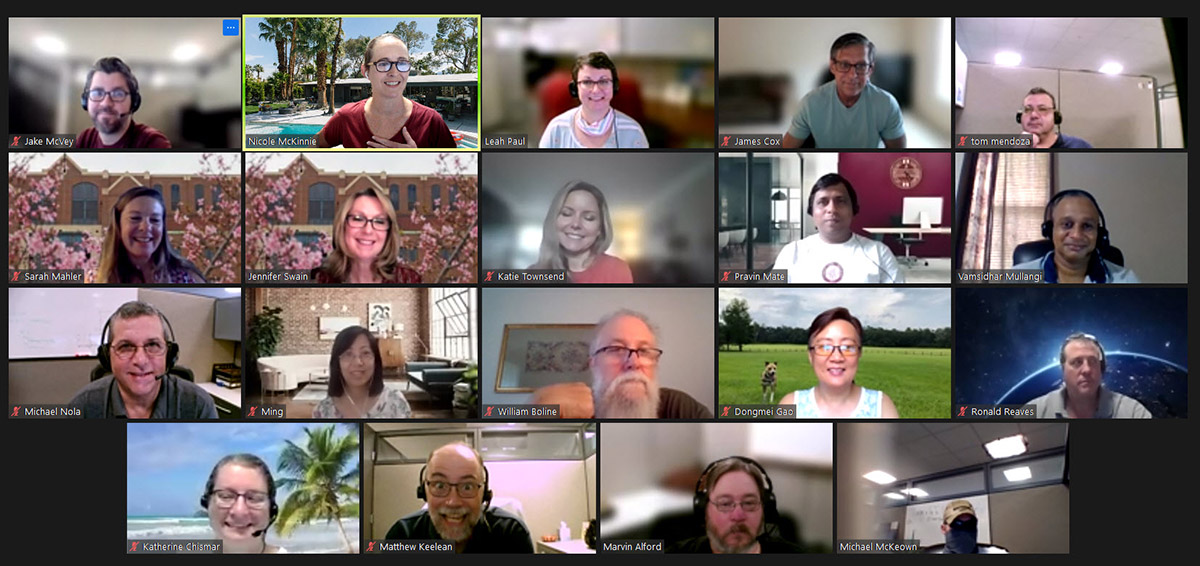 The Student Application Services (SAS) team is the primary group supporting the university's student information system. The SAS team keeps busy developing partnerships and collaborating with the FSU campus community, ITS developers and third-party vendors to provide innovative and thoughtful solutions for real-world, higher education problems. Their work primarily involves updates and enhancements to the myFSU Student Central system. And in the little free time they have, they dream of inventing a coffee robot that will take all their orders for macchiato, café Americano, espresso, café au lait and more to power them through their work.
What is your team's role within ITS?
Our team is responsible for mission critical services which are foundational to the student's experience at FSU. The SAS Team supports myFSU Student Central, the PeopleSoft Campus Solutions product used as FSU's official student information system (SIS). Student Central houses the myriad of data and processes related to admissions, course enrollment and advising, as well as the calculation and disbursement of financial aid maintaining state and federal legislative compliance. We are also the hub for distributing information outwardly to various campus applications. Our team innovates and collaborates with campus partners and vendors as well as IT technology specialists across the FSU campus in order to deliver thoughtful solutions for real-world, higher education problems.
Who makes up the team and what role do they perform?
Led by Director Jen Swain, the SAS Team is comprised of business analysts and technical analysts. The business analysts serve as liaisons with the business office to articulate and define their needs, then collaborate with the technical analysts to develop solutions based on those requests. The technical analysts include Marvin Alford, Jim Cox, Dongmei Gao, Andy Johnson, Ming Lee, Pravin Mate, Vamsi Mullangi, Mike Nola and Ron Reeves. The business analysts include Doug Boline, Kathy Chismar, Irina Gorkov, Matt Keelean, Mike McKeown, Nicole McKinnie, Jake McVey, Sarah Mahler, Tom Mendoza, Leah Paul and Katie Townsend. We develop innovative solutions to enhance capabilities and alleviate hardships for campus when it comes to student information in areas such as Admissions, Financial Aid, Student Business Services, Academic Advising, Division of Student Affairs and Student Records.
What are your team's current projects?
Our current projects list is robust and diverse. It includes such efforts as Florida Prepaid fractional hours update; Forms and workflow undergraduate academic program/plan request; instructor credentials system; archiving applicant data; Ad Astra; student identity gender, pronouns and preferred names; One O365 email tenant consolidation; library open resource materials; Slate graduate interface; EAB data refactoring; TeamWorks upgrade; critical federal and state legislative mandates and updates; and numerous other cross-application and cross-platform integration efforts.
Forthcoming projects include nine new custom forms and workflows; enhancements to several existing custom forms and workflows; new application integrations; enhancements to existing integrations; new customizations; enhancements to existing customizations; upgrade to PeopleSoft Tools 8.59; quarterly PUM upgrades; and as always, ongoing production support efforts.
What is the most rewarding project this year?
We work with so many high impact and high value projects for FSU, it's difficult to choose just one. We've worked to add an additional layer of security in order to protect social security numbers on pages inside Student Central. We worked with campus partners and third-party vendors to offer a new, streamlined payment method for anyone who owes money to the university. We have made it easier for students to provision access to their information to delegates of their choice. We've delivered 16 automated forms and workflows to improve data accuracy and business process and routing efficiencies for students and staff across campus to include the following: summer requirement waivers, dependent verification worksheets, independent verification worksheets, satisfactory/unsatisfactory grade basis change requests, student tax transcripts, parent tax transcripts, state appeals, Florida Prepaid billing change requests, satisfactory academic progress appeals, late payment appeals, late registration appeals, citizenship verifications, drop/add tuition refund appeals, verifications of non-filing student, instructor credentials, and undergraduate program and plan change requests. The list goes on and on!
What is your favorite part of working in ITS?
Again, with a team of twenty, coming to consensus can be quite a challenge! Several SAS team members shared they enjoy the satisfaction of completing a project or resolving an urgent issue. Others have stated they appreciate the intention toward a more agile approach in the work we do; continuous improvements may be made more efficiently when we work agilely! Some team members really enjoy the challenge of solving a complex issue with difficult and/or unclear expectations. Others have expressed their excitement in the direction ITS is going—the renewed focus on what we can do when we work together, the reflection and introspection on where and how we can improve as an organization and how we can play a more meaningful role in our partnership with campus.
What is the biggest challenge your team is facing?
In addition to the ever-changing landscape that is technology in higher education and the necessary enhancements and modifications needed to meet pandemic-related challenges, we have found the volume of internal change to be tremendous this year. In addition to the projects we've road-mapped to support campus and leadership initiatives, we're also working to support internal ITS initiatives and changes and are working within new constructs and third-party products to identify and document new initiatives, manage, track and report on the work we do. Keeping current with everything this team is doing, is planning for and is involved in to support other ITS team initiatives, to whatever degree it might be, requires a tremendous amount of effort for our entire team.
If your team were to invent one piece of technology as a team what would it be?
Lightheartedly, we'd love to invent coffee robots, like a mobile vending machine that can talk and take coffee orders to include a macchiato, café Americano, espresso, café au lait and a cappuccino…. and hot chocolate! In all seriousness, the Student Application Services team prides itself on the partnerships we build, our ability to actively listen, synthesize and fine-tune what we hear and respond to the needs expressed. We collaborate and create innovative solutions that meet and exceed our users' expectations. We don't invent, rather, we innovate; whether to improve our user experience for students, their parents or our campus colleagues or to meet regulatory and legislative mandates and to always increase efficiencies wherever possible.
In five years, what do you see your team working on?
In order for us to continue to evolve with the needs of the university, it is imperative that ITS always be looking out for the tools that will best serve the institution best. We must always be looking to keep our fingers on the pulse of our campus' needs, the technological innovations being developed and an eye to the future. As the team that maintains and supports FSU's official Student Information System (SIS), not only must we keep our eyes on the roadmap for the university SIS, but other options out there that may better serve FSU's needs. Continual and ongoing review of where we are, where we want to go and which interventions make most sense will help us plan for the right tool to meet the need at hand. As we look to the future of how students engage with technology, tangible examples may include augmented reality tools and chat bots to aid our student-facing information systems.