We Are IT | Meet Gabrielle Argueta
---
We Are IT | Meet Gabrielle Argueta
Wednesday 09/22/2021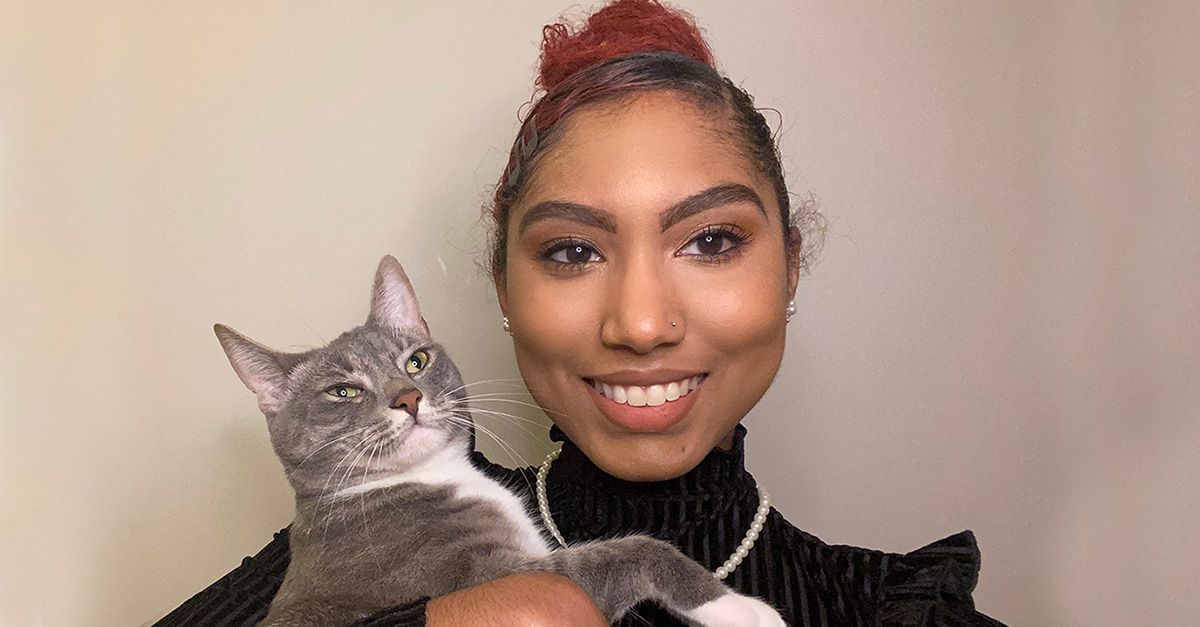 Gabrielle Argueta wears many hats. As the personnel liaison associate, she is the first person new ITS employees interact with. From onboarding new employees and maintaining personnel files to monitoring employee timesheets, Gabrielle helps keep ITS employees on track throughout their employment at FSU. Outside of work, Gabrielle spends much of her time pursuing her master's degree in instructional design. And in a rare moment of free time, you will find her hanging out with her cat Meeko or painting landscapes for friends and family.
Where are you from?
I am from Jacksonville, born and raised for the most part.
Where did you attend school?
I attended undergrad here at FSU, and I am a current master's student. In undergrad I was a psychology major and I minored in business. For my master's degree, I am studying instructional systems and learning technologies.
Why did you choose to work in technology?
I had just graduated from my undergrad and at the time was interning at a few places, one being CareerSource Capital Regional. My intern supervisor put in a good word for me, and Phyllis reached out to me. I got an interview and got the job a few weeks later. I was so relieved because I really needed a job.
How long have you been at FSU?
I started this role on July 19, 2019. So a little over two years now.
What is your role at FSU?
I serve as a personnel liaison associate and my role is to be the liaison between the FSU Human Resources and ITS. Most days I am doing position actions such as entering position descriptions or entering any other position requests. I do records retention and maintain job files and personnel files and any other actions that are requested of me. ITS has been going through a reorganization and a lot of positions are being reclassified, so I've been busy with that. I also monitor vacant positions and recruiting efforts and do visa applications, H1B and permanent resident applications. I onboard new employees. And payroll week, I monitor everybody's timesheet.
What do you enjoy most about your job?
My favorite part of the job is doing the new hiring introductions. When someone comes in to fill out their I-9 form, I get to have that first connection with them and give them a tour and tell them about their experience here at FSU. That is most definitely my favorite part, having that interpersonal experience with new hires.
What's the most rewarding project you've worked on at FSU?
Recently, I onboarded all the interns. It's not like we have never had interns before, but we had double what we usually had. I am the first contact for those interactions. It was definitely an experience having all those people start at once. There were kinks to work out, but it went smoothly. I was very proud of myself when I got it all done. And I definitely learned a few things from the process.
What is your go-to, can't-live-without piece of tech?
My laptop, mainly because I'm a student and I cannot go to school without my laptop. Everything is online.
If you were to invent one piece of technology, what would it be?
Maybe an AR personal trainer. I have been wanting one to help me out with teaching me exercises and diet. Yeah, some sort of virtual reality personal trainer where the entire system is focused on self-help, and you can choose from multiple types of professionals to train you.
What is a fun fact about you?
Well, when I was 16 years old, I got into this program called People to People Student Ambassadors, and through it I was able to go to seven countries in Europe in three weeks. I have a lot of stories about that trip. I was part of the North Florida Jacksonville region delegation and had to go to monthly meetings to prepare for the trip. We learned about the cultures of the countries we were visiting learned learn little bits of each language. During the trip our days would start at 6AM and would not end until 8PM. It was definitely a lifetime experience.
Talk a little bit about your family.
I have a cat named Meeko. He is my son. Back home in Jacksonville, I live with my grandparents, and I have my mom and two younger sisters. We are each seven years apart.
What do you do in your free time?
Well, when I am off work and I'm not doing homework, I lie in bed. But if I am not lying in bed, I like to do makeup looks. I have been playing around with graphic eyeliner a lot. Sometimes I paint, but I mainly do paintings as gifts for birthdays and things like that. I recently picked up roller skating. I'm not that good at it, but I bought some really nice pink roller skates.