1. Click the
Start
menu, and select the
Control Panel
2. Looking in Classic View double click Network Connections
(If looking in Category View click Network and Internet Connections then Network Connections)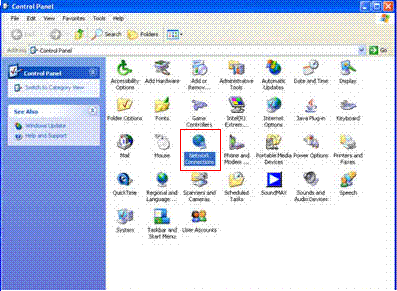 3. Right click on the icon Wireless Network Connection, navigate and click on Properties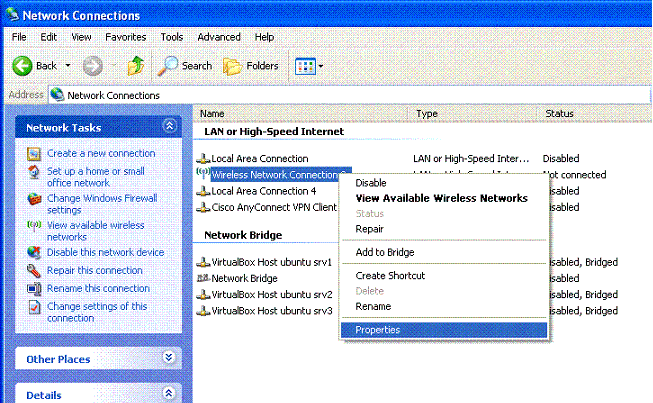 4. Click the tab Wireless Networks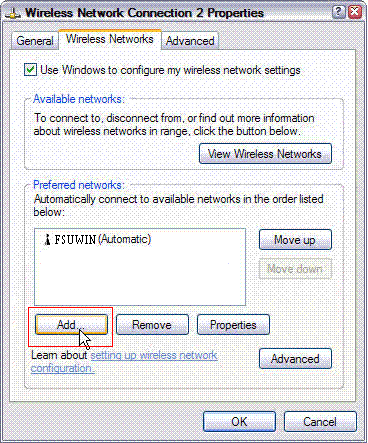 5. Under Preferred Networks click the button Add…
6. Under the tab Association, fill in the following:
Next to Network Name [SSID]: type FSUSecure (using the exact upper and lower case)
Next to Network Authentication: select the drop down WPA2
Next to Data encryption: select the drop down AES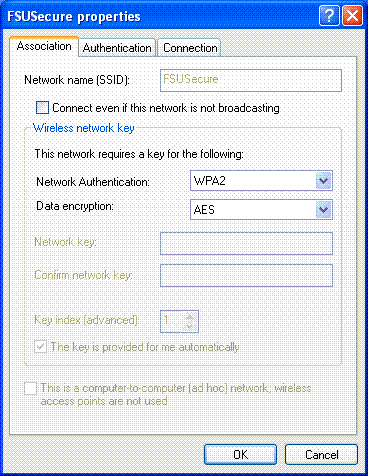 7. Go to the tab Authentication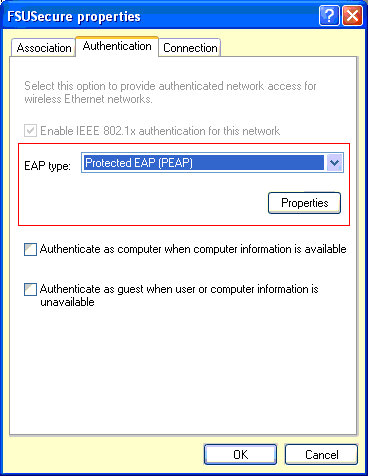 8. Select Protected EAP (PEAP) on the EAP type drop-down menu
9. Ensure that the Authenticate as computer when computer information is available box is not checked
10. Click the Properties button
11. In the Protect EAP Properties fill in the following:
Check Validate server certificates
Check Connect to these servers and in the text box type fsu-wireless-auth-ecc.its.fsu.edu
12. Under Trusted Root Certification Authorities: locate and check the following
AddTrust External CA Root
COMODO ECC Certification Authority (if available)
COMODO ECC Organization Validation Secure Server CA (if available)
13. Be sure under Select Authentication Method the drop-down selected is Secure Password (EAP-MSCHAP v2)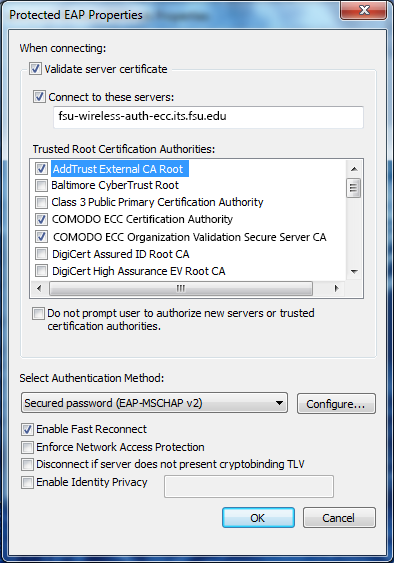 14. Click on the button Configure…
15. Uncheck the box that says Automatically use my Windows logon name and password (and domain if any). Click the OK button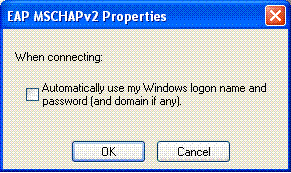 16. Click OK in the Protected EAP Properties window to close
17. Click OK in the Wireless Network Properties window to close
18. Click OK in the Wireless Network Connection window to close
19. Connect to the network: If your wireless card is turned on, a box will in your task bar Click here to select a certificate or other credentials for connection to the network FSUSecure

20. In the User name field -if you're a student- enter your official FSU Email address (FSUID@my.fsu.edu) or as a member of the Faculty/Staff, enter your FSUID. Next insert your password and Password fields.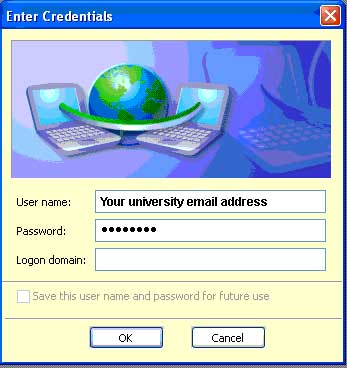 21. Leave the domain field blank and click the button OK
NOTE: A window may appear Validate Server Certificate, Click OK to accept.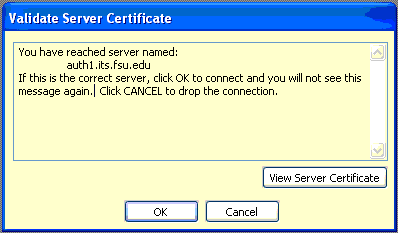 (You can click View Server to confirm the server certificate but it must accept complete your connection)
Setup is now complete.