Florida State / Information Technology Services / - Students / Parent-Third-Party Access
Parent/Third-Party Access
Parent/Third-Party Access may be granted by FSU Students to a parent or other party in order to access a student's information through Blackboard (campus.fsu.edu).
Some* of the Third-Party Access Features include:
Account Statement
Certification Request
Make a Payment
My Address
My Class Schedule
My Grades (Most Recent Term)
*The Financial Aid Student Toolkit is not available through Parent/Third Party Access.
Granting access
To grant Third-Party Access, log in to Blackboard (campus.fsu.edu), click the Secure Apps tab, and then click on the "Parent/Third-Party Access" link.
Review the "Authorization for Information Release and Online Account Access" prior to clicking the button that reads "I Agree and Grant Authority to the Following Individual".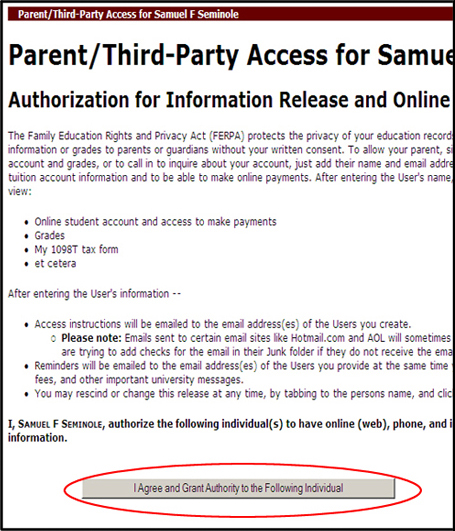 A pop-up will appear – enter the email address of the individual who will be given access.
Click "OK" on the confirmation screen.

Next, fill out the person's name (first and last) and relationship (Parent, Grandparent, Spouse, etc).
Then choose which features and information the individual will have access to by selecting said feature and clicking the "Add" button.

To grant access to all of the available features, click the "Add All" button.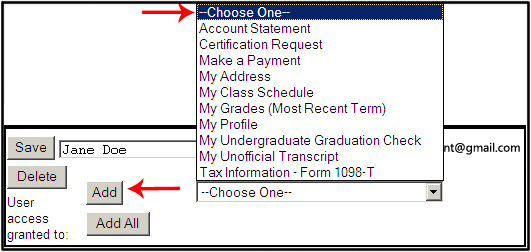 Upon creating the Third-Party Access account, the individual should receive an email message with a link to create a password to complete the process.
Removing access
To remove** Parent/Third-Party Access:
Go to "Parent/Third-Party Access" link through Secure Apps.
Click the "Edit" button next to the user's information.
Click the "Delete" button.
A confirmation pop-up will appear. Click OK.
**An email confirmation of access removal will be sent to the user.

 More information
Guest Access to University Computing Resources